Wow, it's been a busy week around here!! Wednesday was the first day of school for our kids and Friday was Matthews birthday. Needless to say, there's been a lot of chaos around here for the past few days!
The kids are really enjoying school so far. Josh is in the third grade and Matthew is now our big Kindergartener! I can't believe how big they're getting. Everytime I turn around we're hitting another milestone and they're outgrowing another pair of shoes!
So in honor of the first day of school, here are some back to school photos. I have a tradition of taking a photo of the kids on the front porch every year on the first day of school. It's fun to go back and look at the photos and see how much they're grown over the years! We just started Matthew on the tradition this year so he only has one photo, but we've got a good start on Josh's photos. Here's a collage of the past four years: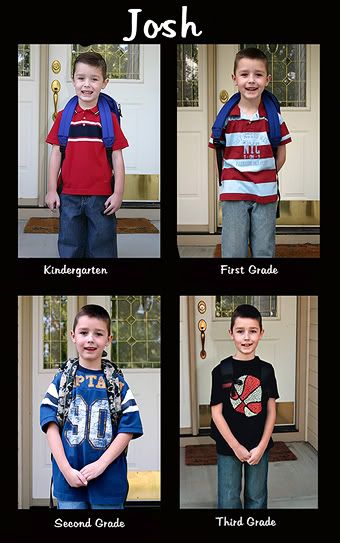 He's just growing up too fast!!
Here are a few more from the big day:
So now that we have both kids in school, I'm actually home alone for part of the day! That feels so WEIRD! I think it's going to be a good thing because I have a lot of photography projects and other things that I'm working on these days, so some quiet time is good, but it sure feels weird for the house to be so quiet during the day. I enjoy the alone time but I really look forward to the afternoon when the kids come home and tell me all about their days.
In other news, I entered some photography in the Western Idaho State Fair and I found out yesterday that my pink daisy photo won second place! Woohoo! :) So if you're in Boise and plan to stop by the fair this week, be sure to visit the photography area and say hello to my ribbon! :)
And speaking of photography, I have a LOT going on in that department these days! This Saturday I'm going to have a booth at the Boise Saturday Market. I was going to do it last month but I was so busy that I had to put it off. But this month I'm ready to go and I'm really excited!
And in HUGE NEWS, I got a call yesterday from Boise Weekly, which is a weekly lifestyle and arts newspaper in Boise and the woman said that they are looking for an emerging artist to feature in this weeks magazine and wanted to use ME!!! So again, if you're in Boise this week, be sure to pick up the Boise Weekly and read my bio. I'm super excited about that!
So after all that photography news, here are a few photos to share. I took these just for fun the other night. Ever since getting the new birdfeeder in my tree I've been enjoying some new birds that are stopping by to visit. My favorites are the goldfinch! They're a pretty yellow color and they've been fun to watch. They're quick little guys though, so taking a good photo of them has been difficult. However, after many misses and blurry photos of goldfinches flying away I did manage to catch a few the other night!
So I guess that's all the big news I have to share today! There's always something exciting going on around here! :)