We've finally reached the end of a really long and difficult week and things are starting to look up around here!
Josh got his hard cast on Friday morning. It was a painful appointment because they had to do more x-rays and it's still hard for him to move his arm too much, but he got through it. They let him pick the color for his cast and he couldn't decide between blue and green, so they did it in blue and green stripes, which he's thrilled with. Casts are much more fun than they used to be when we were little, aren't they? There were no fun colors when we were growing up!
Anyway, he seems a lot happier with his new cast because it's lighter and easier for him to get around in, so I think life is going to get a little easier around here. He's can go back to school on Monday, which he's looking forward to.
Here's a picture of him that I took yesterday with his new cast: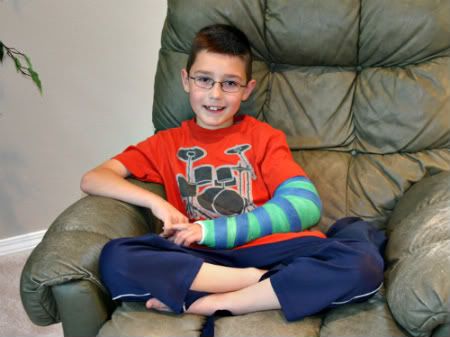 So now that things aren't quite so crazy around here, I'm back to working on some Clarissa projects. I've been trying to decide how to decorate the walls in Clarissa's room for quite a while and I've had a really hard time making up my mind. I've had some ideas about vinyl lettering, but what I wanted to do was really specific and I finally decided that rather than find someone who could do it for me, I would just buy the machine and do it myself! I love vinyl wall letters and there are a whole bunch of projects that I want to do in my house with them.
I've gone back and forth about buying the machine for a while and yesterday morning I decided that it was time to just go buy it. So yesterday I pretty much spent the whole day learning how to use it and designing my very first project! I did Clarissa's name above her bed, and then below that I did her Korean and American names in Korean. It's not quite done yet, because I'm still going to add a little design in between the Korean words, but I took a picture of it to share anyway. I'll take another picture when I decide which design I'm going to use in the middle. pardon the crappy picture. I'm going to take better ones when I get the whole room done.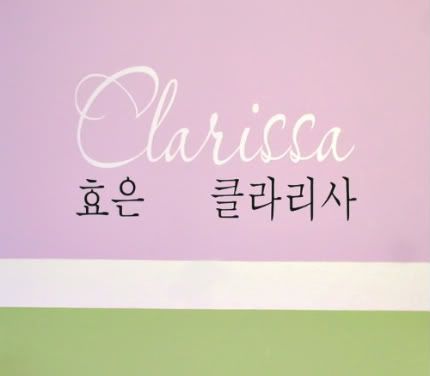 So now I'm all excited to start labeling everything in the house with vinyl letters. :) Today I'm going to do Matthew's name on his wall in kind of a superhero/comic book font that will look nice with the Superhero theme in his bedroom.
Then that got the bug in me to redo Josh's room, which is way overdo for it. When we moved here I painted both of the boys rooms in a light blue and then figured I'd do some more decorating later. We've now lived here for almost five years and I've never really decided how I want to do Josh's room.
So I sat down with him and we picked out some really cool things. I'm not going to do it now because I want to get the rest of the adoption stuff out of the way first, but once Clarissa is here and settled, I'm going to get his room finished. Now that we've figured out what we want to do it's just a matter of painting and buying the bedding and decor we picked out.
We decided to go for kind of a red, white and blue Americana theme. Pottery Barn has some star bedding that I LOVE and we picked some really cute Norman Rockwell sports themed posters for his wall that have a lot red, white and blue in them. I'll do his name in Red vinyl lettering and I can put some white vinyl stars on the wall. Here's our idea board, with the paint colors, samples of the artwork and the bedding. It's going to look really cute when it's finished!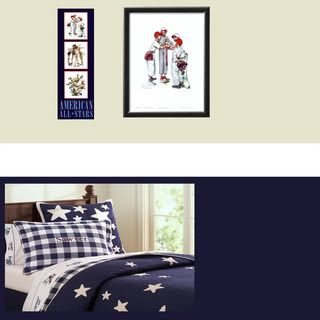 I'm really excited about getting that done! I'll post photos in a few months when I get it finished.
So those are the exciting projects I have going on here these days! Now that our I600 form is done we estimate that we're about a month away from traveling to Korea! I can't believe how close we are!!! So these next few weeks are going to be busy while we get bags packed and finish up all Clarissa related projects. I need to buy diapers and baby gates and make sure she has enough clothes and go through the baby toys I have in storage and finish babyproofing the house and there are a million other things on my list.
It's going to be a really busy month, but I couldn't possibly be more excited about it!! :)